We Banjo 3 – from Ireland – 02/14/18 – Berger Performing Arts Center
For all the innovation and invention that goes into modern music these days, it's the inspiration derived from one's roots that proves the most enduring. So credit Galway, Ireland's We Banjo 3 for finding common ground between old world tradition and authentic Americana by playing their banjo, fiddle, guitar and mandolin ( and some Irish bodhran) in an innovation fusion of styles that they dub "Celtgrass."
Bluegrass + Irish = Celtgrass!

The Fox (in concert-instrumental)

Happiness (music video-song)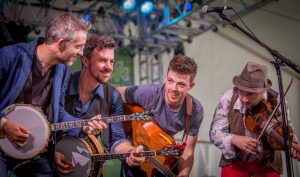 We Banjo 3 is up of two sets of siblings — brothers Enda Scahill (tenor banjo, vocals) and Fergal Scahill (fiddle, viola, dobro, percussion, guitar, mandolin, vocals) and brothers Martin Howley (tenor banjo, mandolin, vocals) and David Howley (lead vocals, guitar).
The Bunch Of Green Rushes-Salt Creek (instrumental)
Who

We Banjo 3 - from Ireland

When

Wednesday, February 14, 2018

Where

1200 West Speedway Blvd
Tucson, AZ 85745

Other Info

We Banjo 3 will perform for the first time in Arizona on Wednesday, February 14 at 7:30pm. At the Berger Performing Arts Center, our usual venue for Irish music!

We Banjo 3's music includes lots of tenor banjo, plus fiddle, other strings and song, and an ingenious new fusion of traditional tunes and original with many American influences. They have a very dynamic and energetic stage presence. We Banjo 3 has a sound we think is the most exciting new sound in years in the genre--actually in many genres, Irish tunes + American trad, American blues and bluegrass, from Keb Mo to Olla Belle Reed, and cool new original songs are all part of their sound. Two sets of brothers from Galway, Ireland, We Banjo 3 have taken to world stages big time in the last few years, including being the last Irish band to play for Obama when he was in office last March. Welcome them to the Berger Center for their first Arizona gig!
We have already added a traditional tune set, with a vocal of the trad The Fox, plus two Irish tunes, we Banjo 3 style, can be viewed plus a video of one of their catchy originals, recorded in Galway, their home town..
Reserved seating on sale now for their show in February, 2018! go to Buy Tickets.
Meanwhile, watch videos here or visit www.webanjo3.com for lots more music and information on this truly exciting band coming soon!

Comments
Next Concert

We Banjo 3 - from Ireland

Wednesday, February 14, 2018