Beoga, with Irish dancers – 09/20/14 – Berger Performing Arts Center
Dolan's – 6 am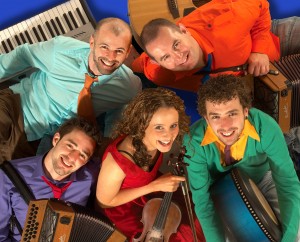 Who

Beoga, with Irish dancers

When

Saturday, September 20, 2014

Where

1200 West Speedway Blvd
Tucson, AZ 85745

Other Info

Beoga (gaelic for 'lively') features five of the finest young musicians in Ireland. The band was drawn together in 2002 after 'jamming' in a ferocious session at the All-Ireland Fleadh. Their unique sound features the twin dueling accordions of Damian McKee and multi-instrumentalist Seán Óg Graham, pianist Liam Bradley, and four time All-Ireland bodhrán champion Eamon Murray.
In 2005, the lineup was complete, with the addition of the band's only woman, Niamh Dunne, one of Ireland's premier young talents, on vocals and fiddle.
Beoga's sound lies firmly within the Irish tradition. However, they are not afraid to incorporate other genres to intensify their sound. From bluesy riffs, to Astor Piazzola-style jazz, to a raunchy New Orleans jamboree vibe, their music always maintains a wonderful bouncy Irish sound. The result is traditional, with a huge sense of fun and adventure. A very high energy show, with the Tir Conaill Irish dancers. This show will be their 2nd Tucson show; and they have released three CDs since their last show here.
Reserved seating tickets on sale now on line ($3/ticket fee) and select seats at Antigone Books, 411 N. 4th Ave. or the Folk Shop 2525 N. Campbell, with no fee. Audio and video now on site-
More info or disability seats, call 981-1475.
Comments
Next Concert

Le Vent du Nord

Thursday, March 11, 2021