Altan, with Irish dancers and Liz Carroll – 03/28/15 – Berger Performing Arts Center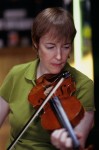 Liz Carroll — Sevens/Michael Kennedy's/The Cup of Tea
Altan — The Tin Key/Sam Kelly's Jig/The Gravediggers (jigs)
Altan — Far Beyond Carrickfinn
Who

Altan, with Irish dancers and Liz Carroll

When

Saturday, March 28, 2015

Where

1200 West Speedway Blvd
Tucson, AZ 85745

Other Info

Altan has a 20+ year history, and is one the top bands in Irish music. They have played in larger halls in Tucson, so this show, with guests will be a treat in the Berger Center. Altan has been in Tucson many times, the last time being 9 years ago. From Donegal and other parts of Ireland, Altan plays fiddles (2 of Irelands best in one band), accordion, various strings, whistles and has two vocalists, Mairead Ni Mhaonaigh, also one of two fiddlers, and also guitarist and vocalist Daithi Sproule, who began his career singing with Triona and Michael O'Dhomnaill of the Bothy Band. Both Mairead and Daithi sing in Irish gaelic and in English.
Altan will be joined by one of America's finest Irish fiddlers, Liz Carroll out of Chicago--listen to her on a track by clicking above. Liz has been in Tucson at least twice, 7 years ago with guitarist John Doyle and earlier with Mick Moloney and others. Liz is a very exciting fiddler, and is also one of America's few well-known composers in the Irish style. She is the only American to ever have won an award given in Ireland for best traditional composer of the year--just 4 years ago in 2011.
Altan's new CD, The Widening Gyre, is now released on Compass Records. The CD includes American players mostly on Irish music, including Sam Bush, Tim O'Brien and Mary Chapin Carpenter.
A full Irish show, the concert will also feature Irish dancers from the Maguire Academy. Tickets are all reserved, for this show: $30 or $27 for seniors and TFTM members, available on line. Select seats are now at Antigone Books, 411 N 4th Avenue and The Folk Shop, 2525 N. Campbell, Note that some tickets shown as sold on the on line chart are actually on sale at the two outlets, with no service fee. Tickets at the door will be $33; $30 for seniors and members.
Tickets are on sale now both on line and at outlets.
info and disability seats: 981-1475.
We thank Tucson Friends of Traditional Music for co-sponsoring this concert.
Comments
Next Concert

Le Vent du Nord

Thursday, March 11, 2021