RUNA – 05/08/15 – Berger Performing Arts Center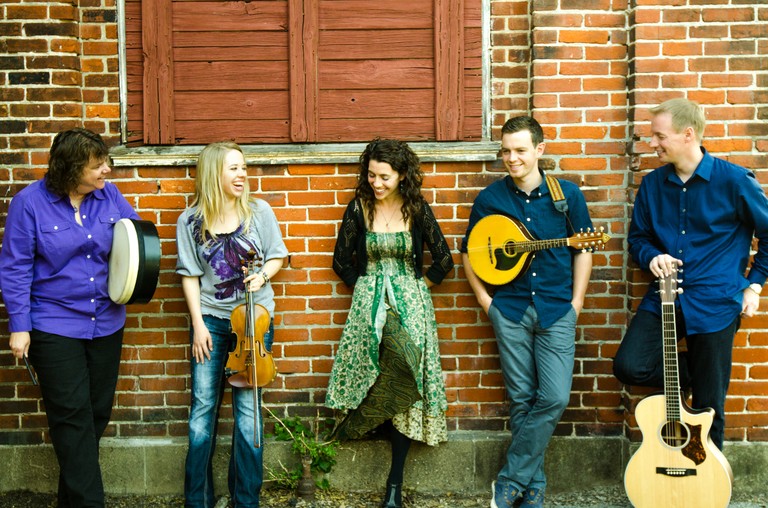 To learn more about RUNA to see more videos, hear more songs, and about the band go to http://www.runamusic.com/.
Who

RUNA

When

Friday, May 8, 2015

Where

1200 West Speedway Blvd
Tucson, AZ 85745

Other Info

A quintet from Ireland, Canada and the US, RUNA has won awards in Ireland and the United States for their new versions of Irish and Celtic music, with vocals in Irish gaelic and English and with instrumentals on fiddle, cittern and bodhran (Irish drum) plus varied percussion. They have been called "Celtic music at its best- Brilliant." by Gene Shay of WXPX, Philadelphia, where they have played the Philadelphia Folk Festival many times. Two members from Ireland are Dave Curley of the band Slide, on vocals, cittern, banjo, bodhran, and step-dancing (Slide's and now Runa's "secret weapon") and Fionan de Barra from Dublin, on guitar and vocals.
Runa was named best Traditional Irish Band of 2013 by Live Ireland.
Lead vocals are by Shannon Lambert-Ryan of Philadelphia, with fiddle by Maggie Estes of Nashville, and varied percussion by Cheryl Prashker of Montreal.
For more on the band including more sound clips, video, bios and more, visit www.runamusic.com.
Once again, we thank Tucson Friends of Traditional Music for co-sponsoring this concert.
Comments
Next Concert

Le Vent du Nord

Thursday, March 11, 2021