Cassie and Maggie MacDonald – 09/17/15 – St. Francis Church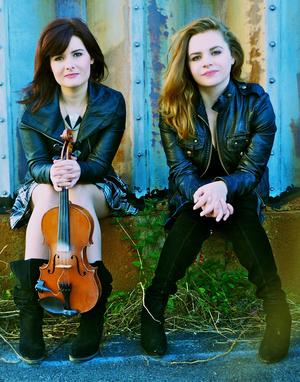 Buain A'choirce  (song in Scots Gaelic followed by fiddle tune)
---
Who

Cassie and Maggie MacDonald

When

Thursday, September 17, 2015

Where

St. Francis in the Foothills (

map

)

4625 E. River Road
Tucson, AZ 85718

Northwest corner of Swan and River Road intersection. River Rd., just west of Swan.

Other Info

From Cape Breton, Nova Scotia, Cassie and Maggie play fiddle, guitar, accordion, and keyboards and both sisters sing as well. A unique and intimate show, this duo performs exquisite music in the Nova Scotia tradition. Exciting tunes and fine vocals in both English and Scottish gaelic. Tunes include reels, jigs, polkas and airs and with fast tunes accompanied by Cape Breton style foot work. Much of the show is fiddle and piano, both played very well, and very typical of Cape Breton music! They also both do some Cape Breton style step dancing in the show (see a sample in the 2nd YouTube). Cassie is an award-winning step dancer and she sings harmony for Maggie. They just won the Live Ireland Award in 2015 for best ensemble and were also the top emerging artist in 2014 awarded by Chicago's Irish-American News.
Come see their first Tucson show and in a fine church with excellent acoustics. Plenty of parking on site.

General admission, church seats 250 total. Advance tickets $20; $18 seniors and students. $3 on line fee. Tickets are also available with no fee at Antigone Books and the Folk Shop!
Door price $23; $21 seniors and students.
Comments
Next Concert

Le Vent du Nord

Thursday, March 11, 2021