Irish Christmas in America – 12/15/15 – Berger Performing Arts Center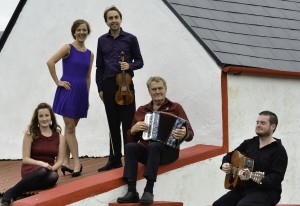 Silent Night / Oiche Chiuin – Irish Chri

Irish Christmas in America @ CMU, Mount Pleasant MI from Musical Ireland on Vimeo.
Who

Irish Christmas in America

When

Tuesday, December 15, 2015

Where

1200 West Speedway Blvd
Tucson, AZ 85745

Other Info

6 members from Ireland with a Christmas theme, lead by Teada's Oisin Mac Diarmada, all-Ireland champion fiddler and director of the show, with Teresa Horgan of FullSet on vocals , flute and whistle, Grainne Hambly on Irish harp and concertina, Sean Gavin on Irish (uilleann) pipes and wooden flute, with Seamus Begley on accordion and vocals. Irish step-dancer and piano player Samantha Harvey also tours with the group; other local and award-winning dancers from the Maguire Academy will be added, to be announced. this show also features a slide show from Ireland, depicting winter scenes and a demonstration of some unique seasonal Irish traditions.

Advance Reserved seating tickets $27 and $25 for seniors and TFTM members, $20 for students and age 13-18, $12 children 12 and under. Families encourage to come! Door tickets $3 more if available. Tickets on sale online now, and some select seats are at Antigone Books, 411 N. 4th Avenue and the Folk Shop, 2525 N. Campbell--no fee for tickets purchased at outlets--$3 fee on line.
Comments
Next Concert

Alasdair Fraser and Natalie Haas

Friday, February 7, 2020