The Kruger Brothers in concert – 02/11/17 – Berger Perf. Arts Center
Tickets available until 5 pm on line–click Buy Tickets button on how page.
Tickets available at door as well.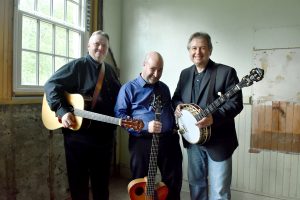 Who

The Kruger Brothers in concert

When

Saturday, February 11, 2017

Where

1200 West Speedway Blvd
Tucson, AZ 85745

Other Info

TO BUY TICKETS TO THIS CONCERT, PLEASE GO TO THE HOME PAGE AND CLICK 'BUY TICKETS" BUTTON ON THE HOME PAGE. PLENTY OF TICKETS ARE STILL AVAILABLE.
Tickets WILL be available at the door $28,$26 seniors at door. Thanks!

Three very entertaining brothers from Germany (actually two are brothers: the other is not, but from same region of the world) who are virtuosos on the banjo, bass, guitars and also fine singers. They are versatile players and singers, and play a wide range of American music, with a very entertaining stage presence. One of their CDs is a tribute to Doc Watson, and Doc's music included in a show that has wide variety of both virtuoso instrumentals and vocals. American music and songs, with some originals in the same style, all played with a European style and funny and entertaining stage presence. This will be their 2nd Tucson show; their first audience here was very impressed. Steve Martin and various other musicians worldwide have good things to say about the Kruger Brothers show.
A new song, "Forever and a Day" is on the site in black and white. On the color you tube, take some time to listen into a few minutes of the video!! Their instrumental goes in a song--a great version of the traditional song "The CooCoo" followed by a terrific banjo solo...
Reserved seating in advance are $25, $23 for seniors are on sale now.
Visit www.krugerbrothers.com for more information. Fine concert coming this Saturday!
Comments
Next Concert

Le Vent du Nord

Thursday, March 11, 2021