Mick Moloney with Athena Tergis – 03/23/17 – St. Francis in the Foothills

When McGuinness Gets a Job

Sailing Off to the Yankee Land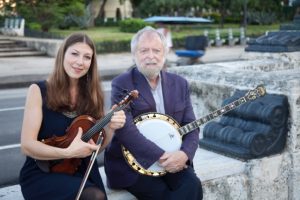 Johnny McGreevy's/ Owney Davey's/ O'Callaghan's/ Margaree Reel (Reels)

Who

Mick Moloney with Athena Tergis

When

Thursday, March 23, 2017

Where

St. Francis in the Foothills (

map

)

4625 E. River Road
Tucson, AZ 85718

Northwest corner of Swan and River Road intersection. River Rd., just west of Swan.

Other Info

One of the most knowledgable and entertaining men in Irish music today, and certainly in the United States, Mick Moloney was born in Limerick, Ireland and now out of Philadelphia. Mick plays tenor banjo and mandolin and is a fine singer in the Irish tradition. Mick is a professor, musicologist and a National Heritage Award winner. It has been over 10 years since Mick has played on a Tucson stage.
With Mick is a fine fiddler in the tradition, Athena Tergis. Athena will add to both the tunes and the vocals. Athena started by studying with Scotsman Alasdair Fraser and then continued to become a fine fiddler in both Irish and Scottish music. She has performed with Riverdance and with the newer version from Riverdance: Heartbeat of Home, and is a member of Mick's larger group, Greenfields of America.
Please listen to the audio clips--two from Mick and one from Athena. Both of the songs by Mick also have Athena playing, and should be played in the show.
Tickets are on sale online and also tickets are at Antigone Books and the Folk Shop for this general admission show.
Tickets are $20 each; $18 for seniors and students. Door price on all tickets:$23.
The show will be at St. Francis Church, which has very comfortable seating, good views of the stage from almost all seats, and fine acoustics sitting about 200.
Comments
Next Concert

Leo Kottke

Saturday, February 19, 2022