R. Carlos Nakai Quartet – 02/24/17 – Berger Performing Arts Center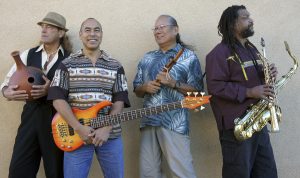 Who

R. Carlos Nakai Quartet

When

Friday, February 24, 2017

7:00pm

-

And all day Saturday/Sunday

-

All Ages

Where

1200 West Speedway Blvd
Tucson, AZ 85745

Other Info

This concert with the quartet is opening night of a longer event: a Healing Power of Music Conference that continues all day Saturday and all day Sunday. For complete information on the conference, see below or go to www.newgroundevents.com

TICKETS FOR THIS CONCERT ARE NO LONGER AVAILABLE ON LINE..
THERE WILL BE PLENTY OF TICKETS AVAILABLE AT THE DOOR IN THE LOBBY OF THE BERGER CENTER AFTER 6:15 PM, FRIDAY, FEBRUARY 24--that is on the evening of the show.

Friday night (Feb 24) at 7pm-9pm,
Saturday (Feb 25) 10am-9:30pm and
Sunday (Feb 26th) 10am-5pm.
Berger Performing Arts Center (1200 W. Speedway Blvd)
Tickets starting at just $25 for single events.
Let the Sound and Science of Music Heal Your Soul
3 Days of Peace-Love-Music and Fascinating Presentations that will celebrate and illuminate music's power to create healing, happiness and harmony in your life.

Featuring 2 Internationally Renowned Musicians:
The Gabriel Ayala Quintet and The world's premier player of the Native American flute, the 11 time Grammy Nominated R. Carlos Nakai Quartet!!
The conference will also feature:
Dr. Melinda Connor - How Music Heals Your Brain: Last time Dr. Connor gave this talk 3 years ago it receive a full and enthusiastic standing ovation at a packed theater.
Tiamo De Vettori - Inspirational Singing at it's Finest – winner of L.A. Singer Songwriter of the Year, AND San Diego's Best Songwriter.
Trey Vincent - 13 year Old Autistic Music Prodigy who will make your jaw drop.
Marthajane Vincent - Trey's mother, will give a short presentation discussing the powerful effect music had allowing him a full recovery from Autism
Mark Romero - NASA Scientist verified Musical Energy Healing!!
Chad Wilkins, Music Minstrel - His Folky Inspirational Music Will Lift Up Your Heart And Soul.
Leigh Lesho and The Night Lights- Yoga of Sound infused into contemporary Pop/Folk/Rock music with beautiful lyrics of love, peace and harmony. Her lyrical music will penetrate your mind and heart in a beautiful way.
From the Top – Musical Improv. They'll create a hilarious musical play right on the spot with audience participation and input!

Full conference info. or to purchase conference admission, visit wwww.newgroundevents.com.
Comments
Next Concert

Old Blind Dogs

Rialto Theatre

Friday, September 3, 2021