We Banjo 3 – from Ireland – 02/14/18 – Berger Performing Arts Center
For all the innovation and invention that goes into modern music these days, it's the inspiration derived from one's roots that proves the most enduring. So credit Galway, Ireland's We Banjo 3 for finding common ground between old world tradition and authentic Americana by playing their banjo, fiddle, guitar and mandolin ( and some Irish bodhran) in an innovation fusion of styles that they dub "Celtgrass." [bluegrass + Irish = Celtgrass]
Bluegrass + Irish = Celtgrass!
One single ticket  J 397 is available online
The Fox (in concert-instrumental)

Happiness (music video-song)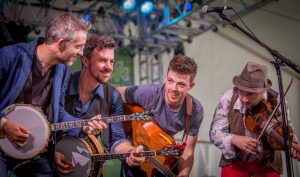 We Banjo 3 is up of two sets of siblings — brothers Enda Scahill (tenor banjo, vocals) and Fergal Scahill (fiddle, viola, dobro, percussion, guitar, mandolin, vocals) and brothers Martin Howley (tenor banjo, mandolin, vocals) and David Howley (lead vocals, guitar).
The Bunch Of Green Rushes-Salt Creek (instrumental)
Who

We Banjo 3 - from Ireland

When

Wednesday, February 14, 2018

Where

1200 West Speedway Blvd
Tucson, AZ 85745

Other Info

SOLD OUT!!
We Banjo 3 will perform for the first time in Arizona on Wednesday, February 14 at 7:30pm. At the Berger Performing Arts Center, our usual venue for Irish music!


Comments
Next Concert

Alasdair Fraser and Natalie Haas

Friday, February 7, 2020